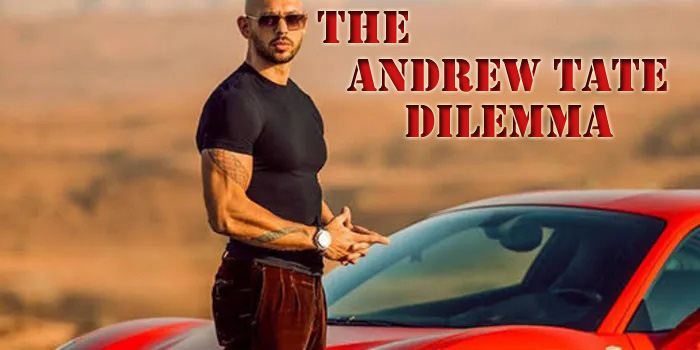 Liberal and conservative media alike are condemning and vilifying Andrew Tate. The former calling him a misogynistic oppressor, and the latter calling him a godless sinner. Both sides are declaring him a danger to young men and saying he must be stopped. Ironically, both sides were the ones who created the fertile ground in which he planted his seeds. The time to stop Andrew Tate was 20-30 years ago, before millions of disgruntled, disenchanted and disenfranchised young men came into existence. Just how did the Left and Right unwittingly collaborate to create Andrew Tate? I will tell you.
Personally, I don't subscribe to some of the things Tate does and speaks. While he hasn't been proven yet to have done anything illegal, I believe he is amoral. Amoral is simply the default setting in today's world for a shrewd businessman. He is possibly on a road to destruction. However, nobody seems to be asking the real question. Why is there such a market for what he sells among young, Western men? This didn't happen in a vacuum and it isn't because young men have gone off the rails. It is because young men have been told for decades that they are toxic and oppressive pieces of garbage, just for being male. It is taught in the schools. It is heralded in the media. It is endorsed and supported by the government. Men are brutalized in family court, losing both children and most of what they worked for almost every time, unless the mother abandons the children outright … another option not available to the man. The liberal ideology puts young men at the very bottom.
Men can be accused and convicted in court just on the words of women, with little or no evidence presented. The men are presumed guilty, with little chance to prove innocence. If you doubt me, read David's story and Jason' story. Their experiences are commonplace today. Scores of innocent men are imprisoned. Men can be fired from their jobs with just one word from a woman to HR. Women who make false accusations and lie under oath are never held accountable. They know this and continue to lie and falsely accuse with impunity.
Western men have been told for decades that women don't need or want them. Most young women chase after the top 20% of men: tall, handsome, fit, high income.1 If you are a "bottom" 80% man, you are vilified as a creep for even approaching a woman. You may even be accused of harassment and then doxed on social media, or worse, arrested and imprisoned.
I talk to many young men today who are in this situation and see even more of them online. You wonder why they find Tate's message so appealing?!? How could they not? Our Western culture, supported by the media and government, created the environment for Andrew Tate to grow and flourish. Now we throw our hands up and proclaim, "How could this happen?" Here's an idea. Stop marginalizing our young men and treating them like garbage.
Young men look at Tate and see someone who is lifting them up instead of bashing them. They won't spend a lot of time analyzing the morality or efficacy of his message. They just know he is in their corner after decades of having nobody there. Millions of disgruntled young men in Russia after World War 1 turned to Lenin and Stalin. In Germany, they turned to Hitler. Be thankful Tate is only selling courses and shilling women online instead of trying to take over your country. He might have enough angry young men backing him to succeed. This is how despots like Hitler and Stalin rose to power. Need I say more?
You religious conservatives also played a part in creating and enabling this. Divorce among church-goers and people of faith is equal to that of secular atheists. Read Phony Proverbs 31 Women for more details. Young men will find no solace in religion. They are bashed regularly in church. Perhaps not to the extent or with the vitriol as in the secular media, universities and public schools, but bashed nonetheless. I've personally witnessed the women in a congregation receiving praise and blessings, then the men being held to task for not standing up and leading, not loving God, or something similar. Women wanting a divorce are enabled, even encouraged, with vague statements like, he is not leading the family like the Bible says he should. Why should a religious man have any greater allegiance to marriage and Western culture than a secular atheist? You tell young men to stand up and be godly, then in the very next moment kick their feet out from under them with your words and actions.
So rather than gasp in shock and turn up your noses, introspect a little and see where your part of the responsibility lies. You preach God, but enable Satan. Take some accountability and stop blaming young men entirely for the Andrew Tate dynamic. Your tolerance, enablement and hypocrisy created the very man you vilify.
You may notice that I am being harsher with you conservatives than your liberal counterparts. It is not because I agree with the liberals. In fact, I myself am what most people would call a religious conservative. It is because liberals, while I do not agree with them, are being true to themselves, whereas you are being hypocrites. Liberals are clear about hating young men and wanting to destroy them. You people playing church are telling young men to man up and march into that destruction willingly, else they are disobeying God. Your solution to everything for young men is simply to "man up," without ever examining if it is even possible or safe to do so. Often you don't even describe what manning up means.
You're also the same people who condemn young men for watching pornography while you are actively destroying God's holy covenant of marriage. I agree that pornography is not the answer, but you offer no viable solutions. You just let others tie young men's hands behind their backs, metaphorically speaking, and then you slap them in their faces afterwards. What you do is like telling someone who was careless with a chain saw to stop bleeding all over the floor. You're not helping things. You're only making them worse. I am particularly disgusted with many of you conservative religious leaders. You are supposed to be representing God. You are doing a lousy job of it. If you cannot handle it, then step down.
So, millions of young men hate both liberals and conservatives. You've both alienated young men so much with your stupid garbage, that a man like Andrew Tate looks like a savior to them. Whatever his other failings may be, he speaks the accurate and unabashed truth about how men are being mistreated and marginalized in the West. This resonates with the young men being mistreated and marginalized. Andrew Tate offers a solution, whether that solution be viable or not. All the Left offers is more of the same abuse. All the Right offers is religious platitudes without meaningful actions. This is why the Right is steadily losing ground. People recognize phonies.
If you want more proof that this alienation of young men is rampant, look at how many young men are leaving corporate America and the work force in general.2 They are tired of both the woke corporate ideologies that vilify them and the greedy, clueless Boomer bosses who try to exploit them. Young men are leaving employment in droves and I don't blame them. Have you noticed how much longer it takes to get an appointment to get your car repaired, a plumber to visit your house, or an electrician to do work for you? Those professions, and many others, are almost exclusively men. The older ones are retiring and the younger ones are not replenishing their ranks. However, you will not hear the media or government ranting about the under-representation of women in these professions. No, that is for executive level jobs only.
You Boomer bosses had already made the workplace insufferable for decades.3 When the liberals injected their woke garbage into the workplace4 (to which Boomers caved in), it pushed things off the precipice and into the abyss. The Millennial generation's Great Resignation had nothing to do with laziness and everything to do with your combined abuse from both sides of the fence. They got sick of your now completely intolerable garbage and left your system. How are you trying to get them back? By shaming and guilting them like a narcissist would. It won't work. You've lost most of them permanently. But don't worry … diversity, equity and inclusion will cover the losses. Tate has made good use of your multi-pronged short sightedness by teaching young men how to make money outside of your corporate system. Of course, many young men have jumped at this chance.
How about universities? Young men are turning away from them and college educations in droves as well.5 Who wants to sit in classrooms for 4 years being told what an evil scumbag you are? Judging from most of the overpriced, worthless degrees handed out by these institutions today, I heartly endorse the decisions of these millions of young men. Why pay to be abused and then have decades-long debt to constantly remind you that you paid for it?
Military enlistments have plummeted and every branch is struggling to meet its quotas for a sustainable force.6,7 They keep dropping physical, mental and psychological requirements, but it still is not enough. Not enough men are willing to sign up anymore. Apparently, the influx of strong and independent women could not even stem the tide.
Marriage anyone? Marriage rates are the lowest they have been in all of their recorded history.8 Why? The liberals will tell you it's because men are intimidated by the strong and independent women. The conservatives will tell you it's because men are refusing to grow up and accept their responsibilities as husbands and fathers. You're both dead wrong. Men are not intimidated and they've grown up fast with the realization that marriage is a system that is completely rigged against them. The woman can choose to quit at anytime for no reason at all and reap huge benefits. She takes away the children and the majority of the assets. Women initiate over 70% of divorces. Women with college degrees initiate around 90%.9 Only a moron would sign up for that. Of course, liberal academia spins this all time low in marriages as the women's prerogative.10 Yeah, right. It is still men predominantly doing the asking and from what I have seen of women's intense desire to have a ring on their fingers and their special wedding days, I doubt many of them are saying no. Men are not asking anymore, possibly because the top 20% cannot marry all of the 100% of women wanting them. And why would they, with many of these strong, independent women giving them all the sex they want with no commitment?
The 80% of men who have been excluded as undesirable, plus many who have been left on the roadside as divorce casualties, have discovered that they can easily live off as little as 20% of what was needed when they had to support a wife and family. So, guess what? They don't need to work anywhere near as hard anymore. Some don't have to work at all. Unfortunately for the government, this means far less taxes, so they are correcting the iniquities in the heavily biased legal system, right? Not even close. They are doubling down and bashing men even harder.  Keep it up guys, and soon there will be no men at all to fix your cars or toilets … or fight your wars.
So, congratulations America and the rest of the West. You've successfully alienated your young men. Just keep blaming and shaming them. See where it gets you. They can survive much more easily without you, than you can survive without them. Many are already doing so. Soon, payment for the piper will come due. Ordinary, quiet men have done the back-breaking, unglamorous work that has kept this society in luxury for many years. We will see how long that continues after they decide to stop. Moral, amoral or immoral, what Andrew Tate is pushing works. What the Left and Right push does not work. That is why young men are flocking to Tate.
References
1 https://goodmenproject.com/featured-content/women-say-80-of-men-are-below-average/
2 https://www.cbsnews.com/news/men-workforce-work-companies-struggle-fill-jobs-manufacturing/
3 https://www.huffpost.com/entry/millennial-baby-boomer-workplace_b_5520155
4 https://dailycaller.com/2023/01/13/crapuchettes-woke-great-resignation-quiet-quitting-inflation/
5 https://www.brookings.edu/articles/the-male-college-crisis-is-not-just-in-enrollment-but-completion/
6 https://www.nbcnews.com/news/military/every-branch-us-military-struggling-meet-2022-recruiting-goals-officia-rcna35078
7 https://www.heritage.org/defense/commentary/the-military-recruiting-crisis-getting-worse
8 https://www.jec.senate.gov/public/index.cfm/republicans/2020/4/marriage-rate-blog-test
9 https://www.ejj-law.com/why-do-women-initiate-divorce-more-often-than-men
10 https://uh.edu/news-events/stories/2023/january-2023/011123.php